Life In A Day (LiaD) Specific Product Features
LiaD is a mobile app that is available in the Apple iTunes and Android Playstores. It was written by the same team that built PiLR EMA, and is designed with the experience gained from 4 years of custom applications meeting the needs of researchers. LiaD extends the PiLR EMA functions to include activity tracking in an ecological context.
LiaD features make it easy to track activities and gather task information.

Activities appear as automatically sorting timer "buttons"
Activity reports are time-stamped and can optionally record the location the activity occurred
Any collection of activities can be uploaded into the PiLR Health Builder from a simple csv file format
The Builder allows the designer to select which activities will be displayed initially
Custom surveys or assessments can be attached to each activity, and will be offered to the participant when that activity is completed.
The journal feature allows a participant to review, change, or add activities

Supports existing PiLR EMA features so LiaD can render content created in the PiLR Health EMA Builder

Content can be a simple or complex survey
Content can be rules translating sensor activity into counts, or activity types (walking, running)
Content can be rules controlling a survey is presented to a participant in addition to surveys presented when activities are completed

Runs in background and foreground modes. LiaD can implement complex rules to determine when to present a study participant with a survey in either mode
Data can be collected from many types of sensors
LiaD will operate and collect data even when there is no network connection
The mobile app can act as a point of presence or collector for a bluetooth enabled sensor
The mobile app accepts rule updates from PiLR Health, so any participant's experience can change while the study is active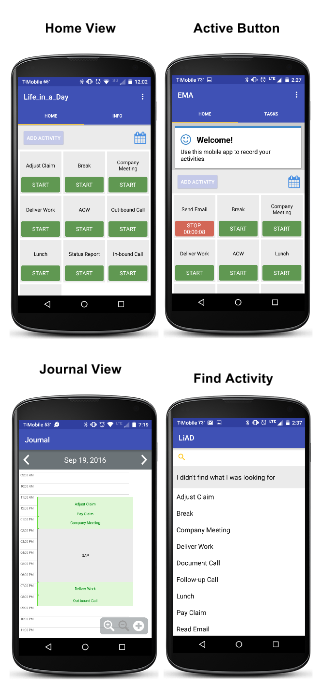 PiLR Health Extensions for LiaD
A new Activity Module has been added to the EMA Builder in PiLR Health that makes it easy for designers to take advantage of the LiaD mobile application functionality. The Activity Module has the following functions:
A file import utility that makes it easy to upload csv formatted files containing activities

The utility provides support for both an initial import as well as subsequent loads. Subsequent imports can either extend the existing activity set (with duplicate checking), or can overwrite or replace an existing one
Features have been added that allow activities to be added manually

Activities can be designated as "Start" which will make them available in the LiaD startup view with no need for the participant to search
Study participants can "Add" activities that were not designated as "Start" and they will be displayed without requiring a search or lookup
Surveys that have been created in the Survey Builder can be linked to Activities. They will be presented to the participant when an activity is completed (press a red activity button in LiaD)
Smart use of PiLR Health templates make it possible for different groups to have different experiences. For example, it is possible to provide different groups with a different set of "Start" buttons — all from a single activity database. This improves the participants experience as they have only the choices that make sense for their job function.